§Slot machines are a popular form of entertainment in casinos, but understanding how they work and how to maximize payouts can be challenging. One of the most important aspects of slot machines is the pay table, which provides important information about the game's payout structure. In this article, we'll take a closer look at how to interpret and maximize payouts on slot machine pay tables.
What is a Slot Machine Pay Table?
A slot machine pay table is a chart or table that displays the payout structure and various winning combinations for a specific slot game. It provides information on the game's symbols and how they relate to payouts, as well as any special features or bonus rounds that may be available.
Pay tables can be found either within the game itself or in separate documentation provided by the casino. It's important to review the pay table before playing a new slot machine to understand the game's payout structure and the odds of winning.
How to Read a Slot Machine Pay Table
The first thing to look for when reading a slot machine pay table is the game's winning combinations. These will typically be listed in order from the highest payout to the lowest, with the top winning combination being the game's jackpot.
The pay table will also indicate the payout for each winning combination, which is typically a multiple of the amount bet per payline. For example, if the payout for a winning combination is listed as "20x," this means that the payout is 20 times the amount bet per payline.
Pay tables may also include information on any special symbols or features in the game, such as wild symbols, scatter symbols, or bonus rounds. These symbols may trigger additional payouts or other features that can increase the player's chances of winning.
Maximizing Payouts on Slot Machines
While slot machines are ultimately games of chance, there are some strategies that players can use to maximize their payouts:
Choose games with high payout percentages: The payout percentage is the amount of money that a slot machine pays out over time. Games with higher payout percentages offer better odds of winning.
Look for games with bonus rounds and special features: These features can increase the player's chances of winning and provide additional payouts.
Bet the maximum amount: Many slot machines offer higher payouts for players who bet the maximum amount per payline. However, this can also lead to quicker losses if the player is not careful.
Manage your bankroll: It's important to set a budget for playing slot machines and stick to it. This can help minimize losses and maximize potential payouts.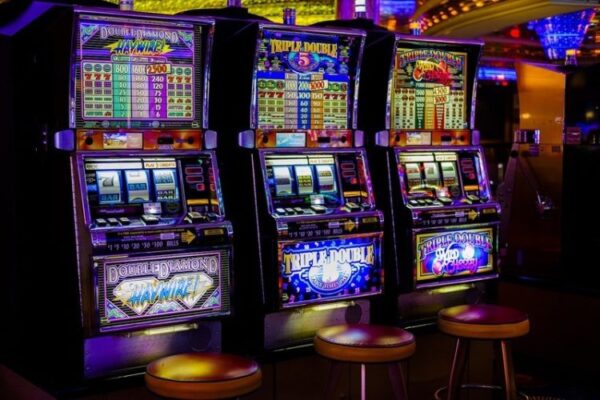 Overall, understanding slot machine pay tables is an important part of playing and winning at slot machines. By taking the time to review the pay table and using some basic strategies, players can increase their chances of winning and have a more enjoyable gaming experience.